CARVING WOODCARVERS MALLET, Wood, Small & Light, NO RESERVE!
Carving Woodcarvers Mallet, Wood, Small & Light, No Reserve!
Belmont, Massachusetts, United States
---
Click Here. Double your traffic. Get Vendio Gallery - Now FREE! CARVING WOODCARVERS MALLET, Wood, Small & Light, NO RESERVE! This is a NO RESERVE auction for a small woodcarvers mallet. It is approximately 7Ф long and 3Ф at the widest point. Weight is 13.3 ounces. Not branded or engraved. Aside from the crack, itТs in good condition. Get a deal on a light duty mallet--bid now! Condition: Used See listing. andale andalesell Click Images to Enlarge Payment Options: PayPal Shipping Options: Domestic shipping: Fixed Shipping Charges. Shipping Carrier Domestic Usps Priority Flat Rate Envelope $6.80 I will ship to: United States Customer Service Policy: Generally shipped day payment received or next business day following payment. Can not always ship on Saturdays. Will combine if it makes sense. toolshedofma Your satisfaction with anything you buy from me is most important, and accordingly, I accept returns for any reason, if you contact me within 30 days of receipt of item. I will refund your entire purchase price plus postage both ways if for any reason your purchase proves to be unsatisfactory. THERE IS NEVER A NEED TO LEAVE NEGATIVE OR NEUTRAL FEEDBACK! Just let me know the item is on the way. IMPORTANT! If you plan on bidding on multiple items spanning more than one day, let me know, and continue to bid. Do NOT pay until you are finished! That way I can combine your shipments wherever possible. Just request an invoice when you are finished bidding. If you pay for an item, I will ship it immediately, as I am penalized by TZSupplies if I fail to do so. I encourage you to add insurance, particularly on the more expensive items. I do track every shipment, so can tell when it is delivered. If it's lost, it's on your dime, unless you have insurance. Also, please note that I do comply with all rules and regulations, so will be unable to declare a low value for overseas shipments. Sorry! Please note: my online name, ToolShedOfMassachusetts is not owned by, nor affiliated with, any business with the same or similar name. CHECK OUT MY FEEDBACK RATING, AND BID WITH CONFIDENCE! GOOD LUCK, AND HAPPY BIDDING! Vendio Images: More than just a pretty image. 150 FREE professional templates with Vendio Sales Manager. Vendio provides powerful selling automation for sellers of all sizes. Get business information that counts! - Vendio Counters are active content free.
Similar products from Chisels & Mallets
26 Nov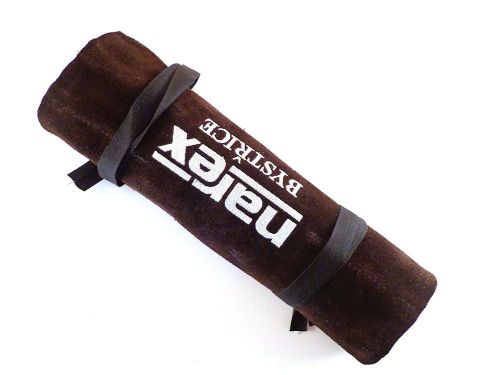 Narex leather 16 pocket tool roll for carving tools or chisels

FAST FREE SHIPPING AMERICAN SHIPPED AND SOLD GOODS Narex Leather 16 Pocket Tool Roll for Carving Tools or Chisels Product Features Made by a small tool manufacturer in the Czech Republic Tool roll is made from suede leather 13" wide by 15" long 16 pockets This product is brand new and in any retail packaging unless otherwise noted in the title. We buy items from bulk in a warehouse to get our prices where they are and as such they are already prepackaged and ready to ship to you.
25 Nov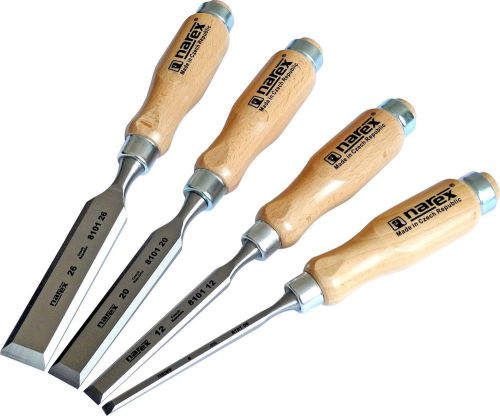 Narex (made in czech republic) 4 pc set 6mm (1/4") 12 (1/2") 20 (3/4") 26 (1...

Narex (Made in Czech Republic) 4 pc set 6mm (1/4"), 12 (1/2"), 20 (3/4") , 26 (1 1/16") mm Woodworking Chisels 863010 Product Features Made by a small tool manufacturer in the Czech Republic Blades are made from fine-grained, nicely tempered chrome-manganese steel and hardened to Rc 59 Contains the following sizes: 6 mm (1/4"), 12 mm (1/2"), 20 mm (13/16") and 26 mm (1 1/32") Bevel ground at a 25 degree bevel.
24 Nov
Footprint - brick bolster 100mm (4in)

::Index:: Designed by: uBer TZSupplies shop design 100% Positive Feedback () follow Join Our Email Newsletter sign up Free USA Delivery* Toggle navigation Footprint - Brick Bolster 100mm (4in) $36.93 Free USA Delivery* Visit Our Shop() Description Payment Delivery Return Policy The Footprint Brick Bolsters have an international reputation for quality and professional performance.